Granite Monuments, Grave Markers, Headstones & More
A Hometown Tradition in Clinton, Serving All of Missouri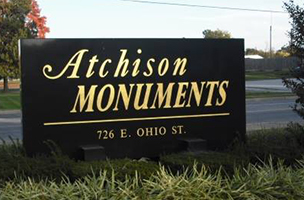 Atchison Monuments & Granite was established in 1991 after the Atchison's bought the business from Eighmy Monuments, who operated the monument business for almost twenty years. Mike Eighmy purchased it from the original owner, Kenneth Harrison, who operated the monument business for 16 years. There has been a monument business serving our community on this corner for almost sixty years!
We proudly serve all of Missouri, providing custom granite monuments, cremation memorials, grave stones, headstones, urns, bench memorials, children's headstones, and more.
We pride ourselves on continuing the legacy of providing our community, and the surrounding areas, with the same care and consideration that Mr. Harrison did when he started this monument business. While offering the highest quality of memorial products and services in the industry, we also set fair and reasonable rates, ensuring that everyone has an opportunity to memorialize their loved ones in a way that brings comfort and joy to those left behind. We offer a variety of ways to afford this important and personal purchase, which demonstrates our dedication to doing our part in making our community a better place.
Please call us today for a full quote 660-885-8882.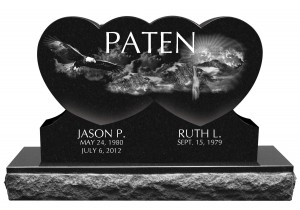 Atchison Monument Specialities
Have the Talk of a Lifetime
It's important for us to know what matters most to the people we love the most. Learn what's most important to them, learn about their lives. We'll guide you through this important conversation with our Talk of a Lifetime Brochure. It's free. Download it today and have the Talk of a Lifetime.
Share Their Stories … Forever!
Add an Eternal Time Keeper to your image and you'll be able to share their story forever. MORE INFORMATION
Now Offering Eternal Timekeepers
We are now proudly selling NFC chips inside our porcelain photos. Now you can immediately connect to the Internet to view a loved one's memorial directly at the grave side with your smartphone or tablet. The concept is beautiful. You can set up the Internet memorial to tell the story of your loved one. Family history, messages from friends and family, photos, and anything else you want to share about this person can be shared with the Eternal Timekeeper.
You can even set up one for yourself, ahead of time, and keep adding to this internet memorial until your passing.  What a great way to tell your story, your way!
HOW MAY WE ASSIST YOU?
Atchison Monuments & Granite
726 E Ohio St
Clinton, MO 64735
Phone: 660-885-8882
Fax: 660-885-5287
If you have questions that we can help you through, please feel free to call us, send an email, or complete the short form below. We are more than happy to assist you.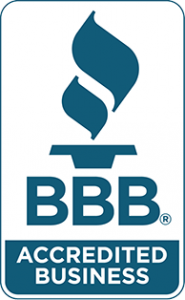 Monuments and Memorials to Remember & Honor Forever
Atchison Monuments & Granite